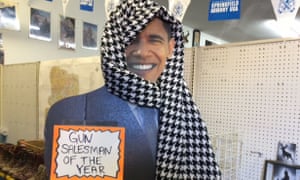 Oregon college shooting is all the more reason to carry guns, say local residents | US news | The Guardian
by Rory Carroll
The deadliest mass killing in the state's history had taken place a few miles away and to the staff and customers of the Roseburg Gun Shop it was clear they faced a grave threat – from
Barack Obama
.
Authorities had just discovered a cache of 13 weapons possessed by the shooter, Chris Harper Mercer, but the man they feared was thousands of miles away in the White House, plotting, as they saw it, to confiscate their weapons and leave them defenceless.
"I've just ordered some more ARs," said the owner, Candi Kinney, referring to assault rifles. "There's always a rush on them after a big shooting. We can't keep the stuff on the shelves."
A lifesize cardboard cutout of the president with an Arab keffiyeh scarf stood at the door with a mocking sign: "Gun salesman of the year."
Interviews with almost a dozen residents on Friday yielded unanimity – even in the queue of people lining up to donate blood at a tent set up downtown. "Obama sucks, he's stupid," said Chris Allen, 43, a mill worker. "If criminals want to get guns they'll get guns." Allen had lost a brother to gun violence – a separate tragedy which only steeled his pro-gun resolve.
"Make this a gun-free zone and you paint a target on us," said one elderly man, a laptop shopper at Staples who declined to give his name. "Criminals will come here because they'll know no one will damn well shoot back at them."