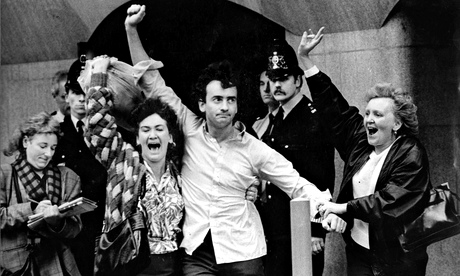 Gerry Conlon, released in 1989,
after 15 years in prison
Who will the Gerry Conlons of the future count on?
Gerry Conlon
died last week.
The innocent victim of British injustice against the Irish, his story was told in the movie `In the Name of the Father'. But recently Conlon was warning of the danger of similar injustices inflicted on Muslim prisoners. - gwc
by Owen Jones // The Guardian
Along with three others, Conlon was wrongly incarcerated for the


Guildford IRA pub bombings of 1974. When his father crossed the Irish Sea to come to his help, he – along with six others, the Maguire Seven – was also banged up on the basis of evidence that would later be entirely discredited. He died in prison in 1980. Guns were put to their head; they were beaten with batteries in socks; urine, faeces and glass were put in their food. Left to rot in prison for many years until campaigners took up their case, it would take 15 years before their unjustly stolen liberty and reputations were restored. And when he was finally free, an emotionally damaged Conlon took to alcohol and drugs, suffered two nervous breakdowns and attempted to kill himself. As he wrote before his death, he was tormented by nightmares.

For those who find it too disturbing to imagine that the British state could be capable of such injustice, it will be comforting to conclude that this episode belongs to the history books: disturbing, but a reminder of a murky past we have thankfully moved on from.

So here is my fear. Last week, David Cameron informed the House of Commons that Britain faced the threat of terrorism from British jihadis returning from Syria and Iraq. The Met's Cressida Dick – who oversaw the police operation that shot dead the innocent Jean Charles de Menezes in 2005 – has this weekend backed up his assertions. Some will cast a wary eye back to the cast-iron intelligence that Iraq posed an imminent security threat to Britain. And set against a background of frighteningly widespread anti-Muslim bigotry, the threat of miscarriages of justice like that suffered by Conlon is surely real and will in turn serve as a recruiting sergeant for fundamentalist extremism.

Already, more than a third of British people believe Muslims pose a "serious threat" to democracy. Just a third believe they are compatible with the "British way of life". And 45% of Brits think there are "too many Muslims". Studies of media coverage suggest a relentlessly negative depiction of Muslims; in 2011, the journalist Richard Peppiatt resignedfrom the Daily Star in protest at its anti-Muslim slant. Muslims are invariably portrayed as radicals, extremists and potential terrorists. The recent Trojan Horse saga portrayed socially conservative pushy parents as "extremists". Crucial as it is to defend a secular education, it was again Muslims being singled out and cast as a threat to "British values".