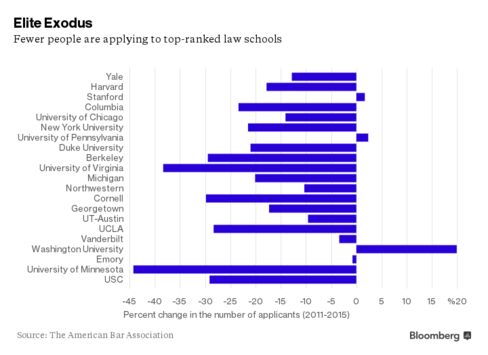 The Best Law Schools Are Attracting Fewer Students - Bloomberg Business
by Natalie Kittroef
In 2010, Sarah Zearfoss, director of admissions at the University of Michigan's law school, got a tip from an employee that she simply could not ignore. It was just two years after the housing crisis, and Zearfoss and her staff were concerned about the increasingly bleak job market for new lawyers. The advice, she thought, might help: Shrink the school.
"The single best thing we could do to help our students is to make the class size smaller," Zearfoss said.
She began to set the plan in motion. Since 2011, Michigan Law, considered one of the country's top law schools, has cut its first-year class by 26 percent. The number of applicants to the school fell 20 percent over that period, according to data from the American Bar Association.
Michigan Law is not the only elite law school to experience such a stark contraction. As applications plunge, especially from the very best students, a growing number of highly regarded law schools are slashing class sizes. The crisis in legal education, once confined to the lower tier (schools ranked below 50 by U.S. News and World Report), has hit the upper echelon.