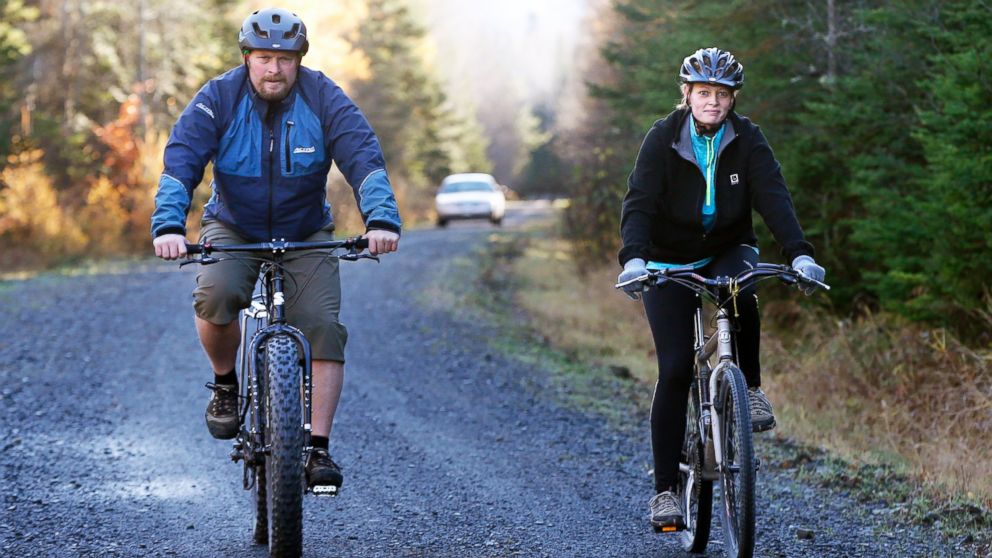 Kaci Hickox and her boyfrend go for a bike ride
A Superior Court Judge in Kennebec County, Maine has rejected Governor Paul LePage's quarantine demand. Instead nurse Kaci Hickox has been required to abide by
CDC guidelines for persons exposed to Ebola
.
Amazing that the quarantine issue has become a political football, with conservatives attacking Kaci Hickox and liberals supporting the CCD. So it has been Obama v. Christie in the press here. National Review online attacks her as self indulgent, etc. Others see only a heroine. Lawrence Gostin of Georgetown law supports her position but describes her bike ride as unnecessarily provocative.
After Kaci Hickox wins court reprieve, LePage says he doesn't trust her — Aroostook — Bangor Daily News — BDN Maine
"By Julia Bayly and Jackie Farwell, Nov. 01, 2014, at 11:50 a.m.
FORT KENT, Maine — A District Court judge will not allow state health officials to prevent nurse Kaci Hickox from entering public places or restrict her movements, according to a temporary order issued Friday. Chief Judge Charles LaVerdiere ruled the Maine Department of Health and Human Services failed to prove that limiting Hickox's movements was necessary to protect others from the danger of infection. Hickox, who recently returned to her home in Fort Kent after treating people with Ebola in Sierra Leone, has no symptoms of the virus. "I am humbled today by the judge's decision," Hickox said during an impromptu press conference Friday afternoon in front of the Fort Kent home she shares with her boyfriend, Ted Wilbur, a nursing student at the University of Maine at Fort Kent. "I am even more humbled by the support we have received from the town of Fort Kent, the state of Maine, across the U.S. and even across the globe." "It's a terrific win for Kaci," said Norman Siegel, Hickox's New York civil rights lawyer. "It validates what she's been saying.""
'via Blog this'