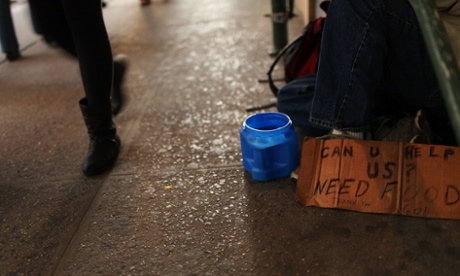 New York homeless shelters housing record-high 53,000 people per night | World news | theguardian.com:
The number of homeless people staying overnight in New York City shelters has eclipsed the

record-high population reported last year, reaching an average of more than 50,000 people per night, according to a new study.

The annual report released Wednesday by the Coalition for the Homelesspaints a bleak picture of the current state of homeless in New York City and offers a series of specific policy recommendations for new mayor Bill de Blasio.

In the past year, more men, women and children than ever before sought shelter, up 7% from 50,135 people in January 2013 to 53,615 people in January 2014. Another staggering figure: the number of homeless children sleeping in shelters has climbed 8% in the past year, with 22,712 children sleeping in homeless shelters in January 2014. And the average stay for homeless families with children stretched by two months to 14.5 months, another record high.

Also alarming is the number of people who have jobs, but no home. The report found that more than one in four homeless families in city shelters is headed by a working adult; and one of every six homeless single adults is employed. According to city data, the number of working homeless people has increased by 57% from November 2010 to July 2013.

The report blames the city's homeless crisis on a combination of factors. It cites the "disastrous homeless policies" implemented by then-mayor Michael Bloomberg; the city's worsening housing affordability; and the growing income inequality gap.

While the coalition's report rails against Bloomberg-era policies, it praises De Blasio, who has pledged to bridge the income inequality gap.
'via Blog this'