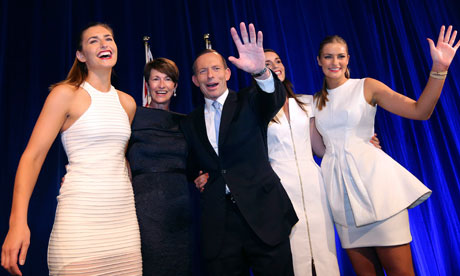 Tony Abbott with his wife and daughters, whom he celebrates as "not bad looking"
You don't need to know much more about Australia's new Prime Minister Tony `stop the boats' Abbott,a Jesuit-educated xenophobe, than who is friends are and that he thinks the least of his brethren should be deported if they manage to land on the shores at all. - GWC
Tony Abbott, the man who promised to 'stop the boats', sails to victory | World news | The Observer
:
Last night, Rupert Murdoch, the Australian-born media mogul, tweeted his delight at the result: "Aust election public sick of public sector workers and phony welfare scroungers sucking life out of economy. Others [sic] nations to follow in time." His newspapers in Australia, with 70% of the country's readership, heavily backed Abbott. On the eve of the election, Abbott described Murdoch as a "hometown hero". In Britain, Prime Minister David Cameron said it would be "great working with another centre-right leader" after calling Abbott to congratulate him.
'via Blog this'