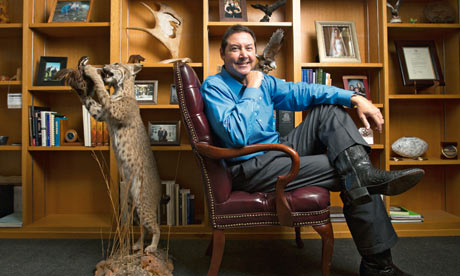 Texas Judge Robert Francis
Drug courts - a big trend in criminal justice - championed most prominently not by sympathetic social workers but by Republican who have overcome their tough on crime bent by recognizing that jails are costly and unsuccessful. Rehab reduces recidivism is the message. - gwc
Robert Francis, the Texan judge closing America's jails | World news | The Observer:
They are beneficiaries of a revolution in justice sweeping the United States, one with illuminating lessons for Britain. It is a revolt led by hardline conservatives who have declared prison a sign of state failure. They say it is an inefficient use of taxpayers' money when the same people, often damaged by drink, drugs, mental health problems or chaotic backgrounds, return there again and again.
Remarkably, this revolution was unleashed in "hang 'em high" Texas, which prides itself on its toughness and still holds more executions than other states. But instead of building more prisons and jailing ever more people, Texas is now diverting funds to sophisticated rehabilitation programmes to reduce recidivism. Money has been poured into probation, parole and specialist services for addicts, the mentally ill, women and veterans. And it has worked: figures show even violent crime dropping at more than twice the national average, while cutting costs and reducing prison populations.
'via Blog this'